About us
What people say...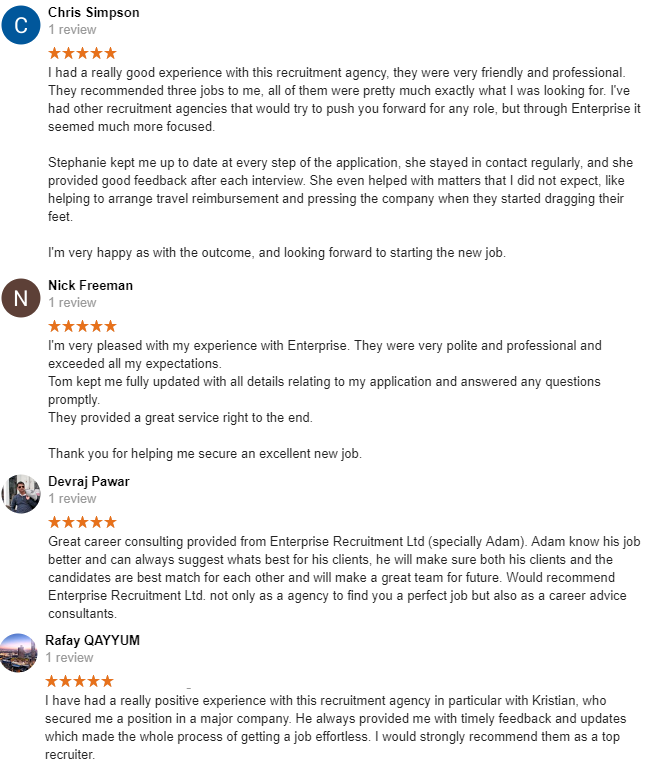 To see more reviews click here

Technology and electronics – that's what we do best.
From a client point of view we work hard to find you what you really want. Job specs are a good start – but we want the extra details. What's the team like? Why are you recruiting? What will the candidate be doing on a day to day basis? What are your long term goals? What "soft" skills are you looking for? Anyone can send candidates who match on paper – but what you want is people who can do the job AND be a good team fit. Our aim is to make recruitment as simple and painless as possible, saving you time, money and effort.
From a candidate point of view we listen to what you're really looking for. What you're really hoping to get out of your next job move. And if you're not sure – we know the right questions to ask. We'll talk about your skills, your aspirations, your long term goals. And we'll match those with the jobs we've talked to our clients about. We'll discuss the companies, teams and jobs with you in detail (you'll find us very knowledgeable!) and only put you forward to the roles you are genuinely interested in.
And if you're considering moving into recruitment this is what you need to know about us......First of all we all love recruitment. We really enjoy finding someone the job that is right for them, and helping with their career development. And we get a real kick out of filling our clients' vacancies. That's why we do recruitment, but there is more to us than that......
We are a small company where everyone knows each other. And everyone gets on. Everyone works hard. The office atmosphere is friendly and sociable. Everyone makes drinks for one another. Phrases like "Drinks Dash", "gym", and "Cake Monday" are used a lot. At lunchtimes you'll often find us in the gym or at exercise classes, and at weekends we'll be swimming, playing football, tennis, running, or doing more exercise classes. We go skiing and on football tours. And we like to travel too. So I guess you could say we're energetic people who like to be on the go when we're not working.
We are always interested in hearing from people with bags of enthusiasm and "get up and go" who would consider a career in recruitment. Below are our current vacancies.
Trainee Recruitment Consultant